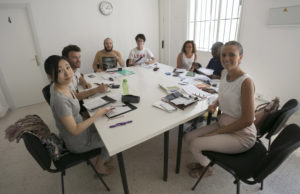 Get your certificate now!
– You will get a certificate at the end of your Spanish Course, indicating your level and number of hours (valid for universities, etc).
– We have the best priced Spanish Courses in Seville.
– Weekly or monthly (5% discount) payments, as you prefer (credit/debit card, PayPal, bank transfer or cash).
(If you make the whole payment in advance, you will get an extra 5% discount).
– All the Spanish Courses include: grammar, exercises, listening, speaking, real life situations, etc.
– Also, DELE preparation for every level (the only official Spanish certificate).
– Are you applying for a student Visa? We send the Invitation/Acceptance Letter, in order to apply for a Student Visa. We get 100% of Visas approved.
– Sevilla Habla is located in the best area of the city: the heart of the center of Seville
– We cater to every level, from A1 (beginners) to C2 (advanced).
– New students can start any Monday of the year. According to your level, we will recommend you the proper group for you.
– Morning or evening shifts.
– And remember that you will never loose one single day: you can always make up your missed classes!
3 hours + 30 minutes break per day, from Monday to Friday + 2´5 hours of cultural activities
20 hours of Spanish Course/week
Morning shift: 10h -1´30h pm
Evening shift: 4h -7´30 pm
You cannot attend our Intensive Courses every day? There is no problem. You can register for single days and pay just for these days
Flexible schedule in the morning, afternoon or evening
Sevilla Habla: We work hard to ensure your success.
In Sevilla Habla we use a modern methodology for learning. Our results are the best example to show that these methods work. You will learn in an easy and fun way.
Qualified and experienced teachers, native to Spain and with prestigious" International House" certificate.
In our courses, we work with small groups (maximum 9) to improve interactivity and participation of individual students and all in a fun and familiar atmosphere.
In addition, we have many groups for every level (beginner, intermediate and advanced).
Guarantee of success in learning is provided by a number of positive feedbacks of our students from all over the world.
We are recommended by Official Organizations, like Turismo de Sevilla.
You will receive a certificate indicating your level of language proficiency and the number of hours of learning.
Everything is included in the price: you do not have to buy books, etc. We provide everything!
In case our students require, we are happy to offer various accommodation options (homestay with Spanish families or private rooms in shared apartments, with other students).
We are also happy to provide airport or station pick up and drop off at the accommodation, in case our students may require such option.
Finally, we have the best prices!
Learn Spanish easily and cheap, and get your certificate at Sevilla Habla!
Sevilla Habla works!
Enroll to our Intensive Courses
Enroll to our Private Lessons
Questions about our Courses? Check our FAQ page